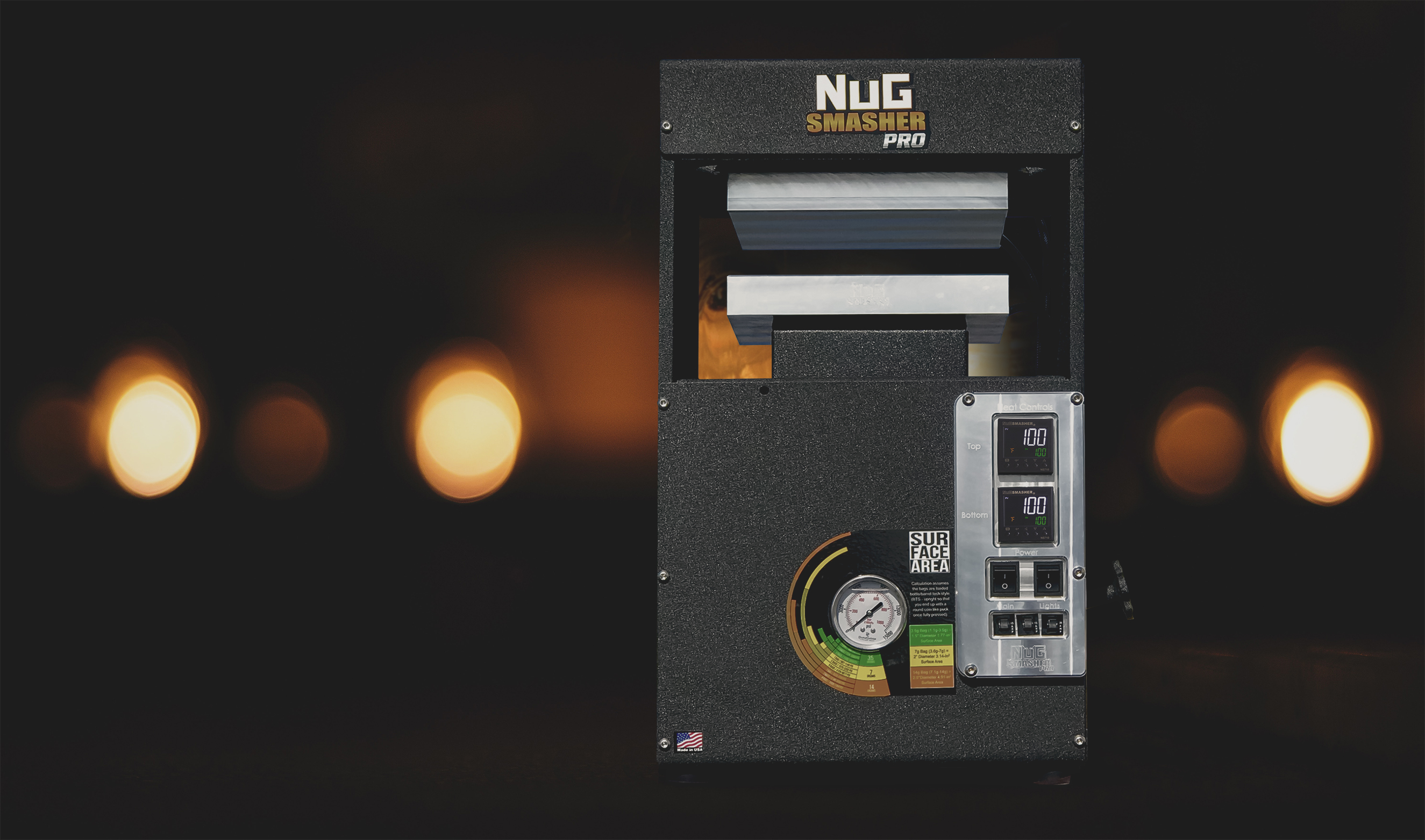 The Nugsmasher® family of presses are purpose built machines exclusively designed for Rosin extraction. After years of researching and testing, our Rosin connoisseurs together with our design and engineering team, have put together an impressive set of features needed for the perfect and consistent extraction process. Read more about some of the features below…
Plug-N-Play
The Nugsmasher® product line-up are all Plug-N-Play presses. Simply plug into your power supply and turn unit on and you are ready to start extracting! The Nugsmasher® Pro version has a built in pneumatic function as well.
Circuit Protection
The Nugsmasher® is a well-equipped machine requiring multiple power circuits to make everything run properly. With safety in mind, our electrical engineers have routed each of the 3 sub-circuits as well as the primary power circuit through high quality, resettable circuit breakers which are neatly mounted to the front panel for easy monitoring and access to reset them if needed.
Temp Controls
The Nugsmasher® product line-up offers precise temperature control of the heat plates. Just set your desired temperature and the controllers will bring the plates to temp and keep them consistent throughout your pressing session.
Built-In Pressure Gauge
Increase your chances of having repeatable results by ensuring you are pressing the same each time you load your press. The built-in gauge allows you to find the perfect amount of pressure for your material and apply the same amount on your next press with ease. *Gauge only available on Nugsmasher® Pro and Nugsmasher® XP.
Thermally Isolated Heat Plates
The top plates of the Nugsmasher® line-up are thermally isolated. This design minimizes undesired heat transfer away from your pressing area. This helps maintain efficiency as well as maintaining your desired temps on the plates.
Illuminated Work Area
Both the Nugsmasher® PRO and Nugsmasher® XP features 2 LED's lights focused on the pressing area and have this built in option standard.
Steel and Aluminum Construction
Solid interlocked USA structural steel creates the frame of the Nugsmasher® product line-up offering well beyond the individual pressing abilities. Aircraft grade aluminum is fully CNC machined in-house and is used for the pressing plates.

Nugsmasher® PRO
Frame .5" A36
Plates 1.5" 6061

Nugsmasher® XP
Frame .375" A36
Plates 1.25" 6061

Nugsmasher®
Frame .375" A36
Plates 1.25" 6061

Nugsmasher® Mini
Frame .25" A36
Plates 1.25" 6061
Heat Plates
No other press offers the flexibility in pressing preference found with the Nugsmasher® line-up. Our customers have spoken and we've listened! Providing the proper machine and accessory for the master extractor's every need.

Nugsmasher® PRO
20 Tons of Pressure
7 x 10"Heat Plates

Nugsmasher® XP
12 Tons of Pressure
4 x 6" Heat Plates

Nugsmasher®
12 Tons of Pressure
4 x 4" Heat Plates

Nugsmasher® Mini
2 Tons of Pressure
2.5" Round or Square Heat Plates
Heaters
The Nugsmasher® product line-up is equipped with specific purpose designed heat cartridges on each of the top and bottom plates allowing for a quick start-up, more even heat disbursement, and better maintained target temps throughout your pressing session.

Nugsmasher® PRO
3 x 160w Top
3 x 160w Bottom

Nugsmasher® XP
2 x 160w Top
2 x 160w Bottom

Nugsmasher®
1 x 160w Top
1 x 160w Bottom

Nugsmasher® Mini
1 x 70w Top
1 x 70w Bottom