It only makes sense that NugSmasher would write an article on what rosin is – so here it is.
About time, huh?
Not only are we going to tell you what rosin is, but we're going to show you how to do it. The right way.
So throw away those hair straighteners and let's get right into it.
What is Rosin?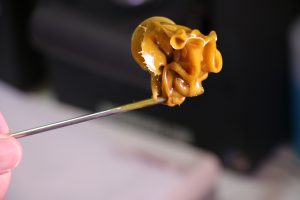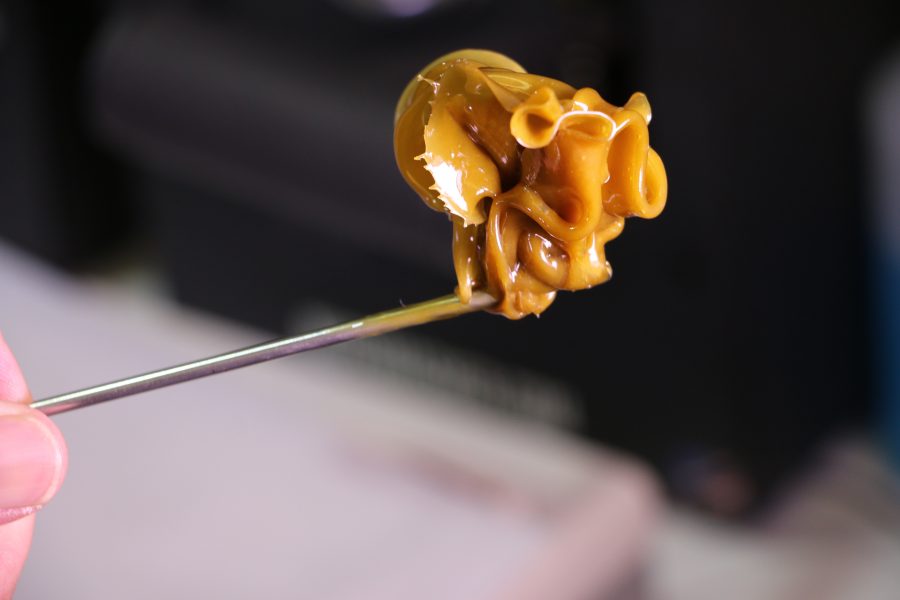 Oh, rosin. Sweet, sweet rosin.
Rosin is a cannabis concentrate extracted from the cannabis plant, using nothing more than heat and pressure.
The result? A translucent, sappy and sometimes shatter-like product that is potent enough to rival any of your favorite BHO products.
What's the difference between rosin and other cannabis concentrates on the market?
Solvents.
Most cannabis concentrate extraction methods require the use of a solvent such as Butane, Propane or CO2. For a completely detailed description of the differences between BHO and rosin (And why rosin is sooooo much better) check out this article – Rosin VS Bho.
But how does heat and pressure transform cannabis into such a revolutionary product? The accumulation of trichomes, of course! 
But is rosin really that easy to make, you ask?
Yes. Yes it is.
The next part of this article will give you every piece of knowledge we've gathered from years of experience, to get you started pressing rosin.
Before you can get started on your rosin pressing ventures, you will need a couple things.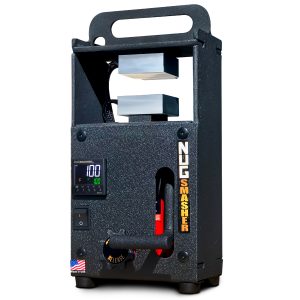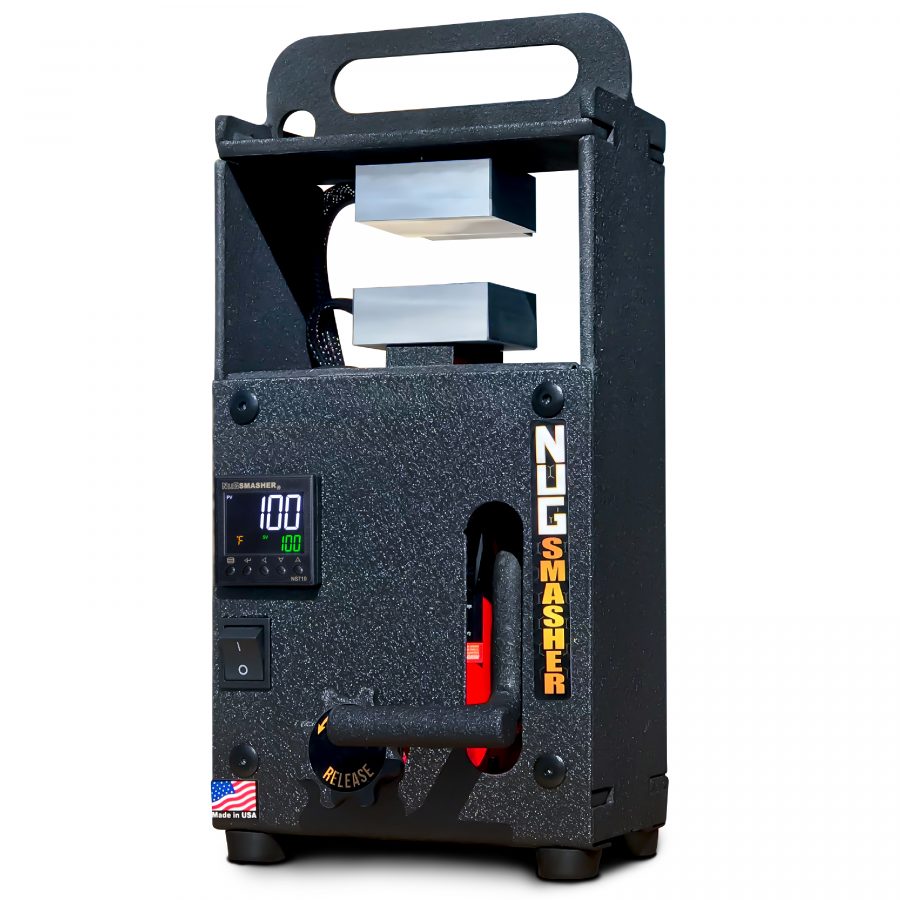 What You Need To Press Rosin
– A Rosin Press
– Fresh Flower
– Parchment Paper
– A Dab Tool
And most importantly – A Good Attitude!
Sound like a lot of stuff? Just head over to our store and grab everything you need in a NugSmasher Bundle. 
Now, we're good to go. 
Let's jump straight into one very, very important factor – Starting Product.
I'm sure you've asked yourself, which NugSmasher rosin press gives the best yields?
Well the answer is none of them. And all of them.
Because it's not the machine – it's the weed.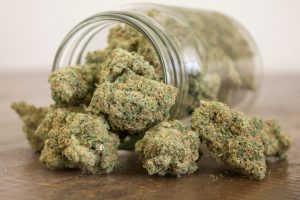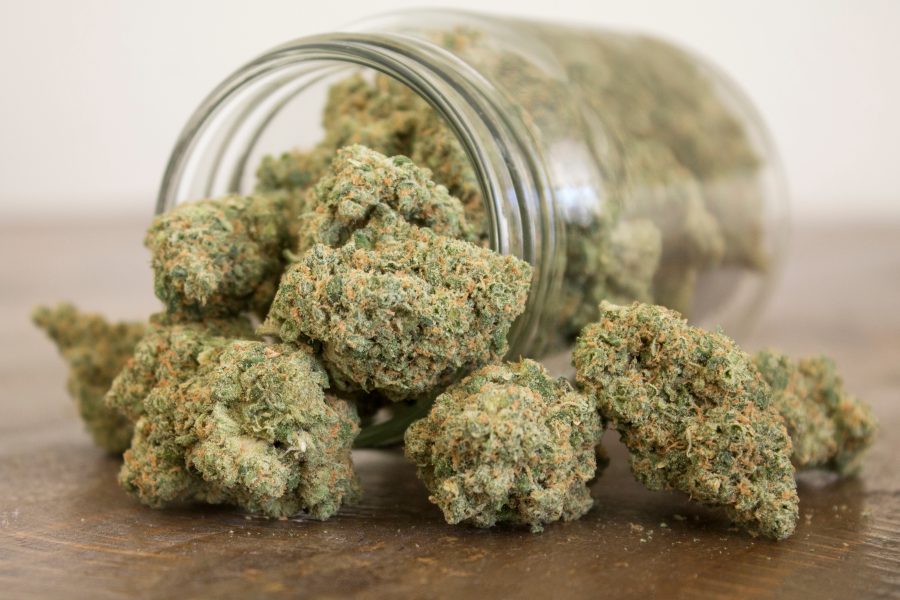 Do me a favor and grab a pen and a piece of paper and write this down.
Fire in, fire out.
That is the number one most popular saying in the rosin press industry because your rosin will only be as good as your starting product.
If you put a piece of tree bark in the oven for 15 minutes – it's not going to taste very good.
But what about a pizza? It's going to be the best thing you've ever tasted.
Same goes for rosin.
If you put extremely potent, trichome coated flowers into a NugSmasher Mini – Well, you're going to get some amaaaaaaazing rosin.
But if you put in old and dry (dare I say, reggie) buds into a NugSmasher – Well, the end result just won't be the same.
If you want high-quality results you need high-quality products.
For tons of information regarding best starting material – check out Terpfile to get detailed extraction information from users worldwide.
Terpfile – A Database For Rosin Pressers Worldwide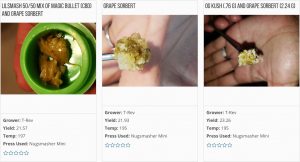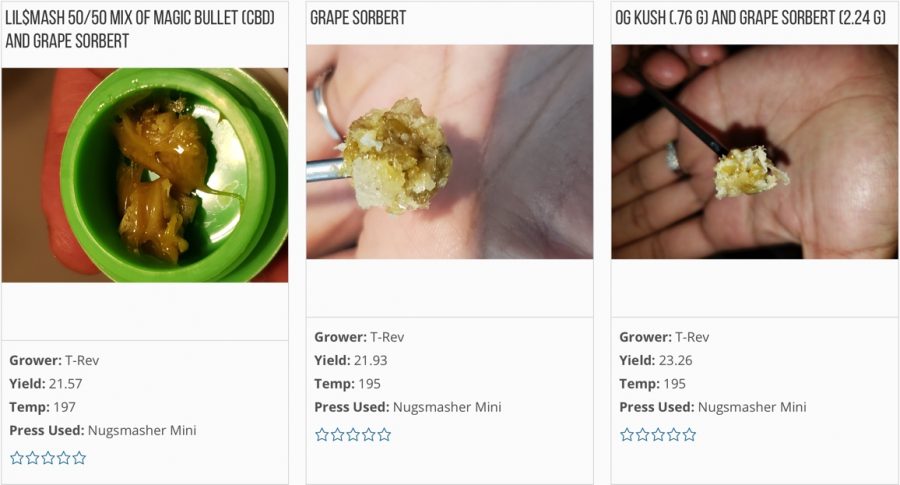 Terpfile is a full database that allows rosin pressers to post every detail of their rosin pressing experiences to create a community of unified pressers around the world.
Each entry is detailed with everything you need including:
– Material Type
– Strain
– Weight
 – Bag Used
– Press Used
– Temperature
– Time
– Yield
And much more.
Terpfile serves as an incredibly valuable reference for experienced and beginner extractors alike.
Click here to get started showing the world, your rosin. 
Let's move on to those micron bags everyone is pressing rosin with. 
Micron Bags – A Rosin Extractors Best Friend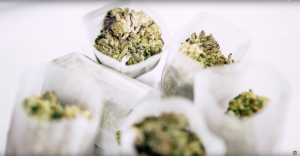 What are micron bags and what are they used for?
NugSmasher Extraction Bags are recommended for optimal yielding, clean – quality rosin.
Extraction bags play a significant role in rosin extraction as they act as a filter to separate unwanted plant material from the desired cannabinoid oils.
These extraction bags give users one important tool to ensure consistent extractions – Surface Area.
Every NugSmasher rosin press was designed to deliver a certain amount of pressure to a specific surface area, to ensure the best possible results.
We have our bags broken down into four different size categories – as well as four different micron sizes.  
First, let's take a look at our four different bag sizes: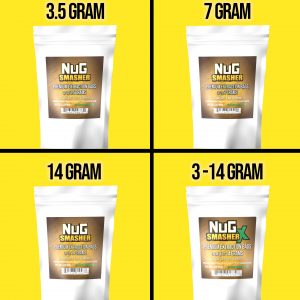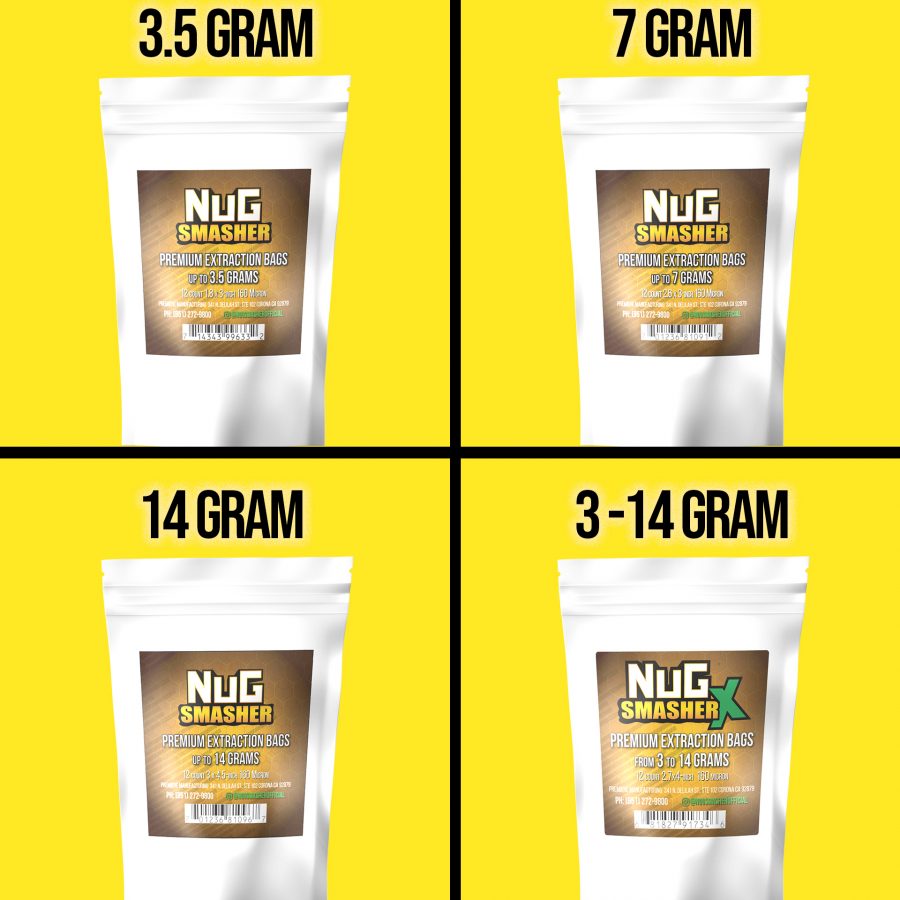 We have four different bag sizes as follows:
– 3.5 Gram Bags (Compatible with Nugsmasher Mini, OG, XP, Touch, Pro)
– 7 Gram Bags (Compatible with NugSmasher OG, XP, Touch, Pro)
– 14 Gram Bags (Compatible with NugSmasher OG, XP, Touch, Pro)
– 3-14 Gram Bags (Designed specifically for the NugSmasher X)
Don't let these numbers intimidate you – I know we're not in math class right now.
The size is specific to the amount of bud you're pressing. Pretty simple stuff.
Each bag size comes with four different options of micron sizes, as well, including 37, 90, 120 and 160 micron. 
And what does micron size mean?
I'm going to make this part so simple, you'll probably know more than me about micron by the end of this.
Micron Size Matters
The micron size is all about starting material.
The kind of starting material you use requires a specific bag.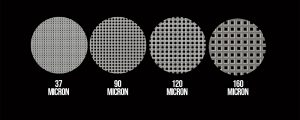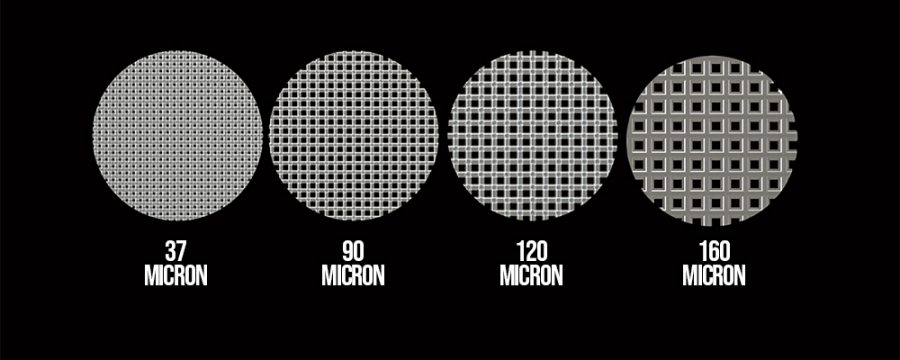 As you can see from the image, the micron size refers to the size of the holes which the rosin will seep through. 
For dryer buds, you want smaller holes to ensure less starting material in your end product.
For wetter buds, the holes are bigger because it's less likely for the buds to move through.
One micron is measurable to 1 millionth of a meter.
For fresh, quality material 160-micron bags are ideal. As flower dries and quality decreases, you will also want to decrease in micron size.
The reason for this is that as the plant dries, the material is susceptible to flake and crumble.
You don't want this material to be pushed out into your rosin as it will negatively affect the color, taste, and overall quality.
Let's check out the four sizes a little bit more:
Microns – Which Offers The Highest Yields?
37 Micron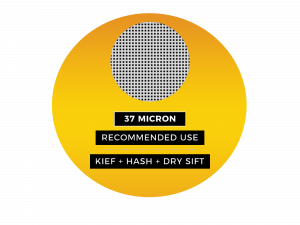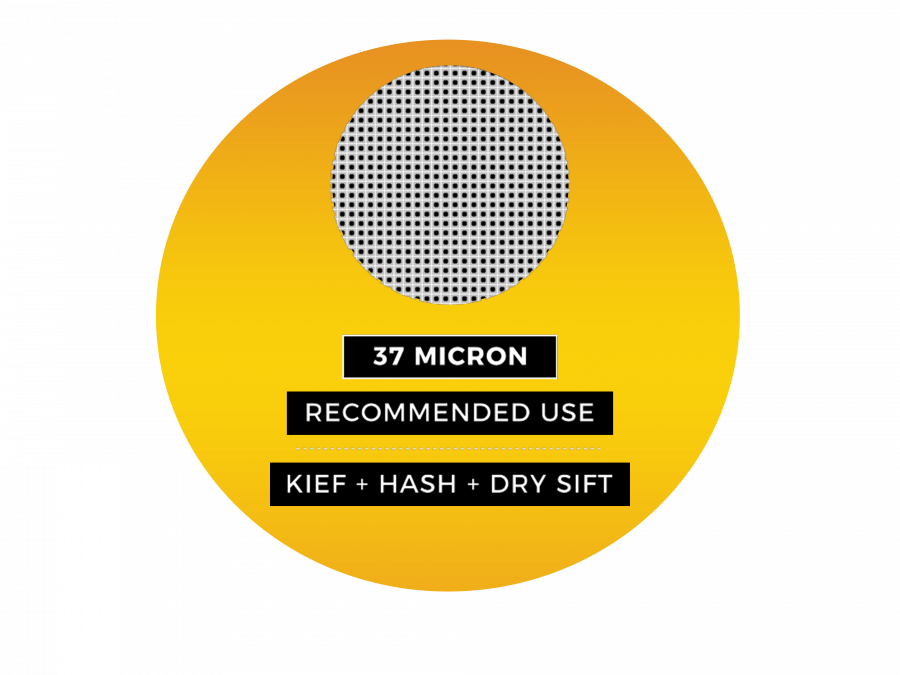 This is the smallest micron size we have to offer. Thirty-seven micron sized bags work best when used for things like:
– Kief
– Hash
– Dry Sift 
90 Micron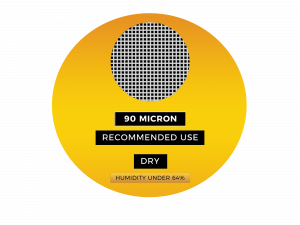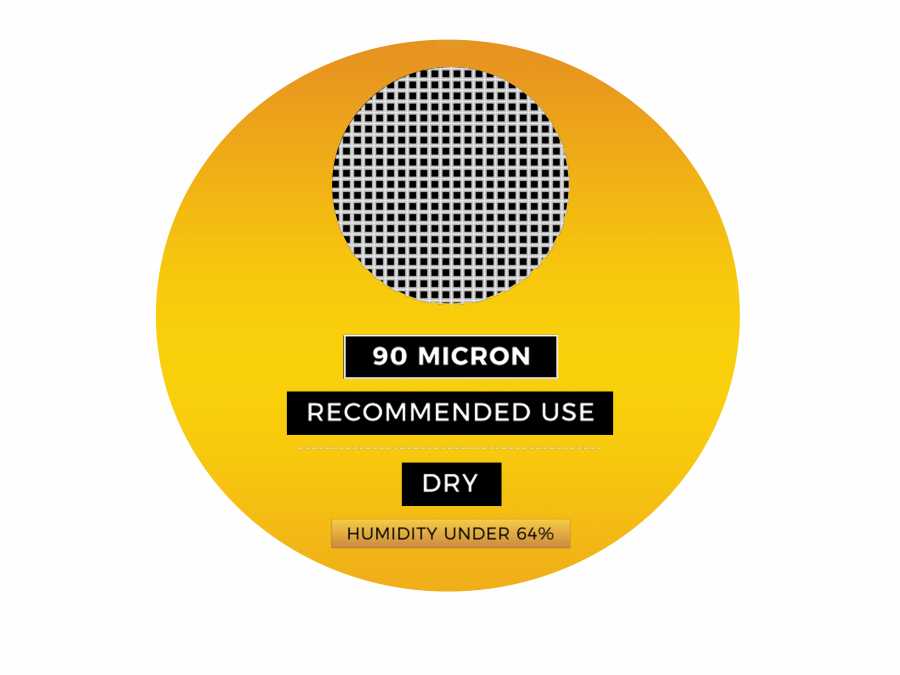 Ninety micron bags are best used for things like:
– Hemp
– Dry Buds
– Humidity under 64%
120 Micron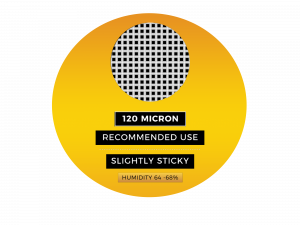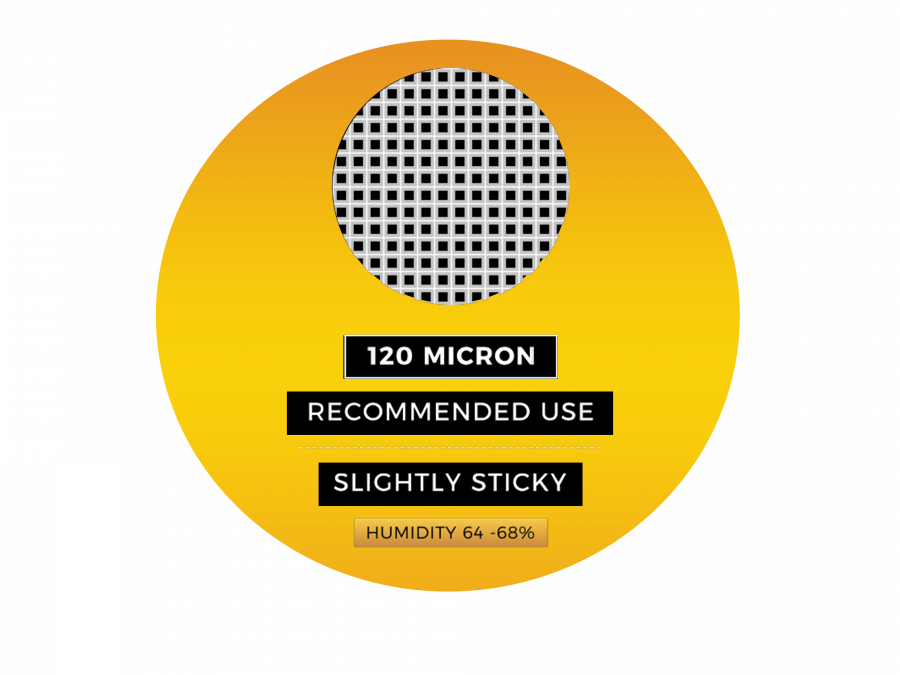 The One-hundred and twenty micron sized bags are great for buds that are:
– Slightly sticky
– Humidity between 64-68%
160 Micron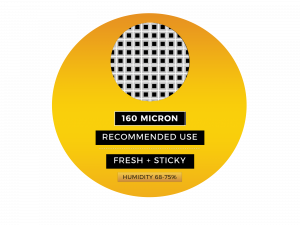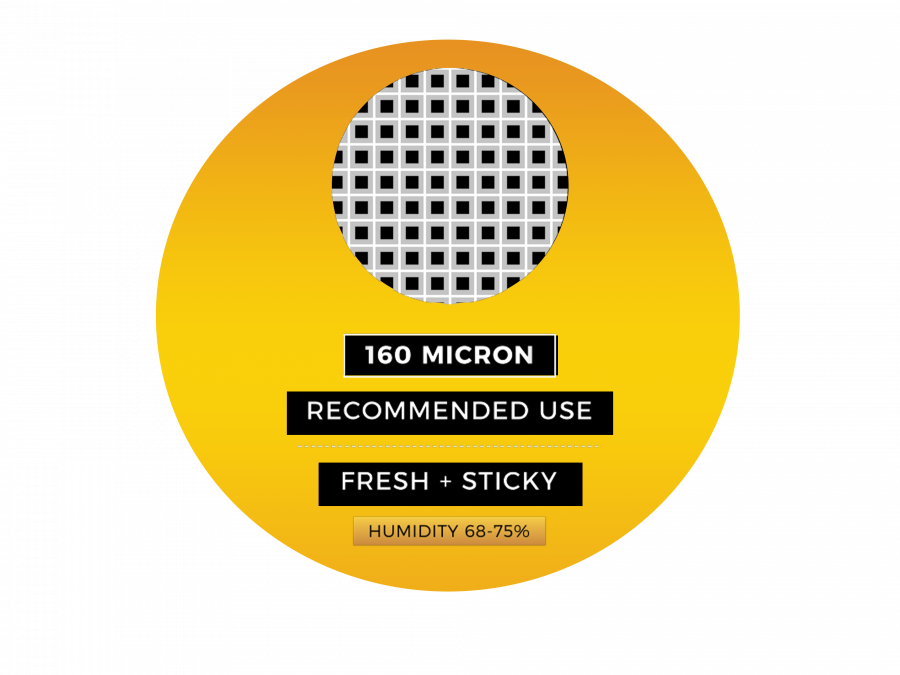 Our largest micron sized bags are the one-hundred and sixties. These bags are ideal for:
– Fresh and sticky buds 
– Humidity between 68-75%
For anything 1.5 grams or smaller, no bag is necessary.
As you can see, no specific micron size offers the best yield because they each serve a different purpose. 
So you're a micron bag expert now – that's great! Make sure to tell your friends.
But what about loading the bag up? Is there a specific way to do that?
Yes. Yes there is.
It's called bottle tech style.
Bottle Tech Style – The Key To Consistent Extractions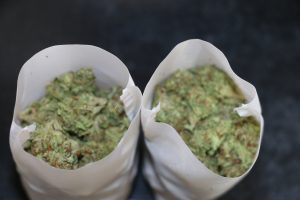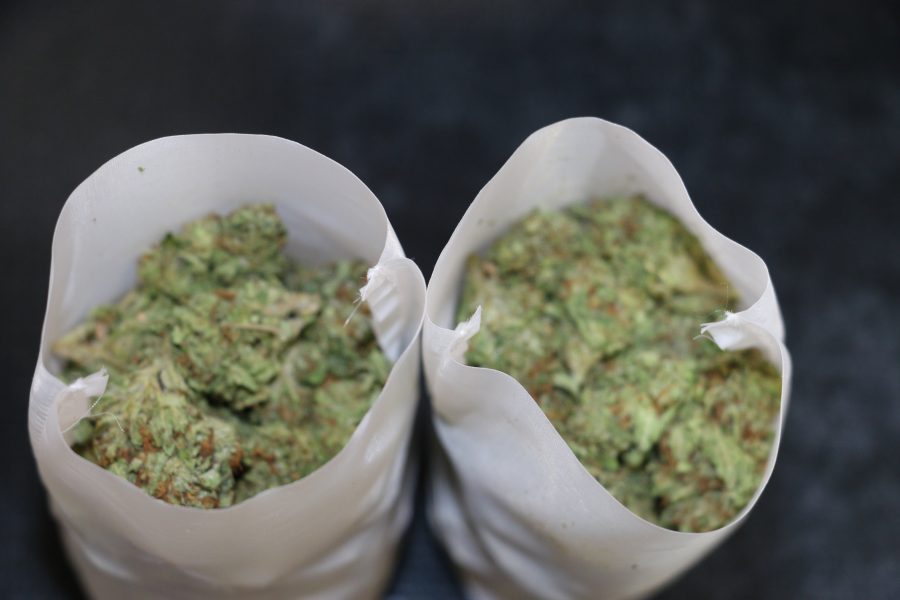 This method gives you the ideal surface area to ensure the best quality extraction, every time.
Basically, you want to make a cylinder shape with the weed loaded in the bag.
You do this by following three simple steps:
– Step 1: Invert the bottom corners before starting.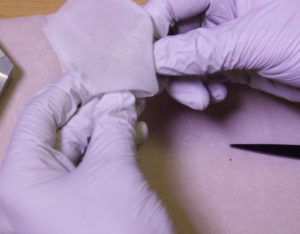 – Step 2: Load the bag nice and tightly.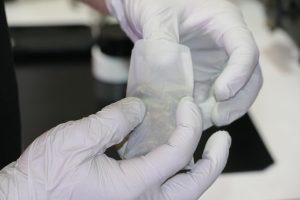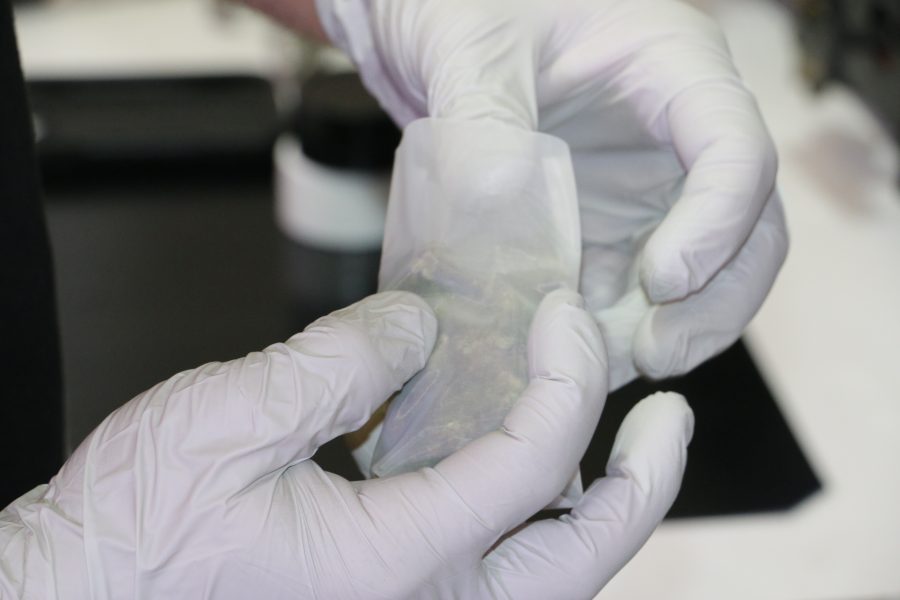 – Step 3: Cut excess bag and fold the top like a present.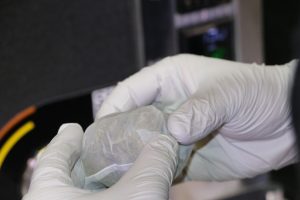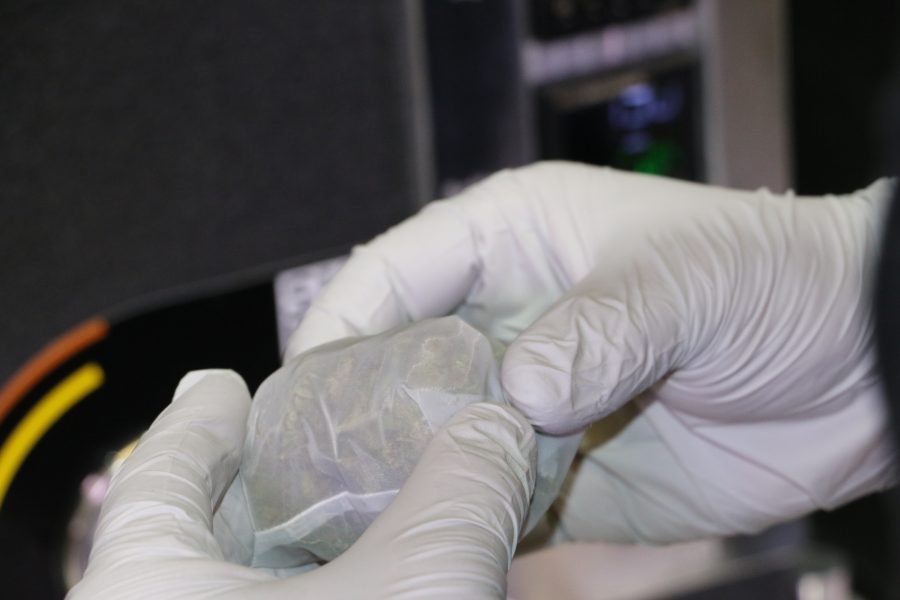 And that's it!
This shape gives a consistent and accurate diameter measurement so applying pressure is made simple.
For a better visual sample on how to do this – watch this video.
At this point, you can place your loaded bag in some parchment paper between the two heated plates of your rosin press.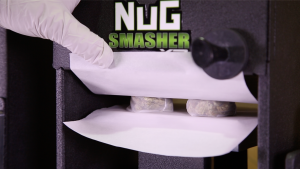 Next, we'll talk about pressure.
Pressure – Not Too Much Not Too Little
It's all about that sweet spot. 
It's safe to assume that about 80% of people out there are under and/or over pressurizing their extractions.
But that's okay! We're all learning and that's good.
But what happens from an under or over pressurized extraction?
– Under pressurized extractions result in low yields.
– Over pressurized extractions result in darker products with degraded terpenes (possible burnt taste) . 
Needless to say, pressure is pretty important.
That's where NugSmasher sets itself apart from other rosin presses on the market.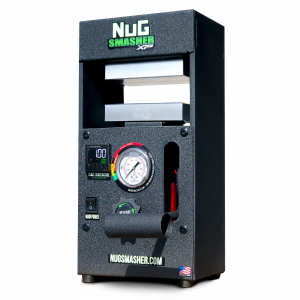 NugSmasher talking about why NugSmasher is so great – makes sense.
I apologize in advance for the bragging,  but I have no choice.
NugSmasher rosin presses were designed to make pressure as easy as possible for users.
By using our machines and following our directions – you have everything you need to achieve consistent extractions – every time.
It's because we designed our machines and bags for specific extractions.
We've even designed a Calculator Tool on our website to make it even easier. Definitely go check out the Calculator Tool to get any information you may need on pressure.
Rosin made simple – am I right?
NugSmasher X is quite possibly the easiest possible machine ever made with one bag size and one specific pressure available.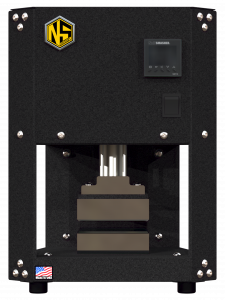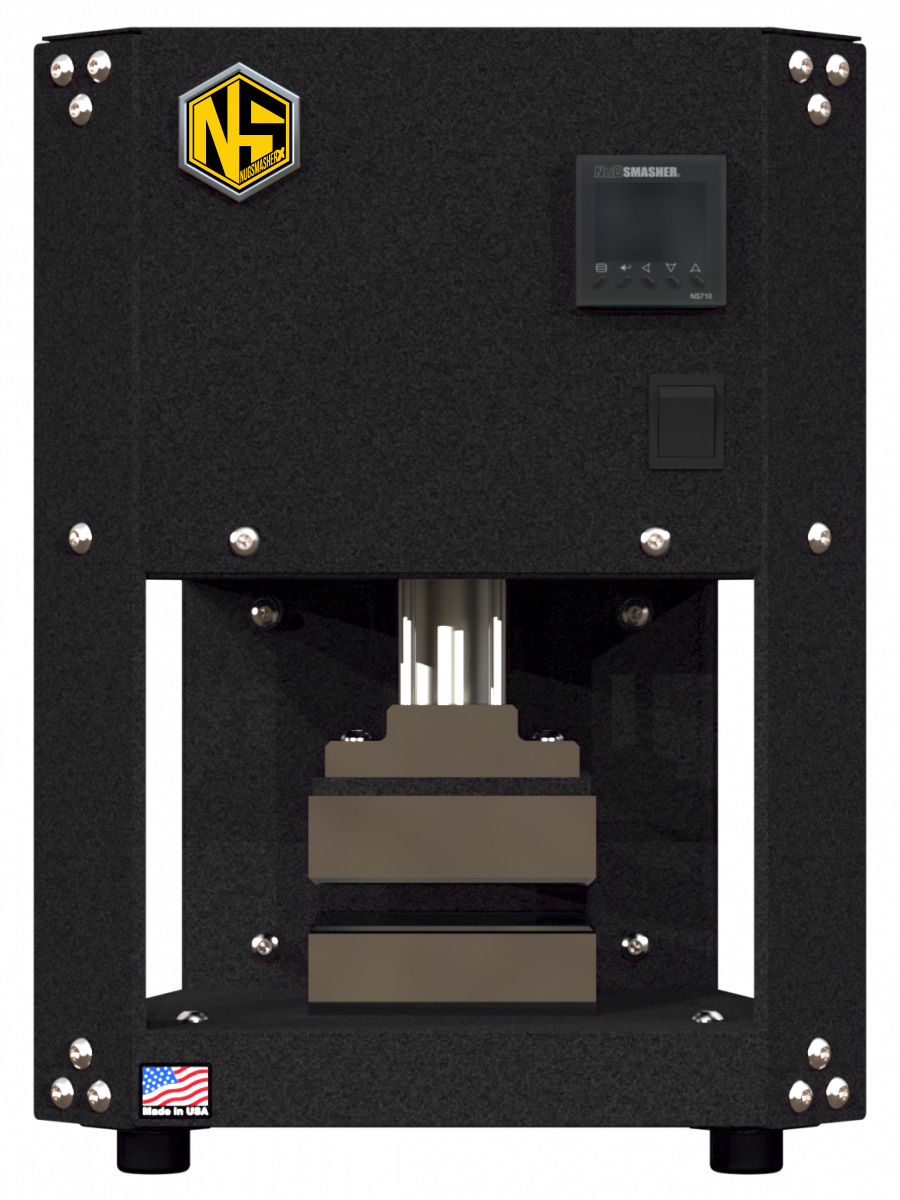 You couldn't perform a bad extraction with the X – even if you tried. 
Next, we can talk about temperature.
Temperature – The Sweet Spot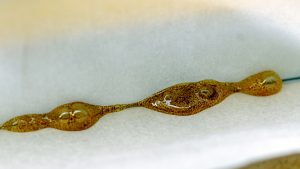 The two most important elements to ensure a quality extraction pressing rosin are temperature and pressure.
So yeah, it's pretty important.
The temperature you press your flower at will affect everything including:
– Color (Get that nice blonde color you're looking for)
– Texture (Whether you're going for a budder or shatter like consistency)
– Taste (Cooked rosin will taste burnt)
– Yield (Too low temperature will give you low yields)
When beginning an extraction with a new strain, it is recommended to start at around 215 degrees with 1-2 grams.
After measuring the yield, start dropping down 5-7 degrees until you see a drop in yield and then return to the last previous temperature setting.
This is how you will find the ideal temperature for the maximum yield.
From our experience the yield is maximized for many strains at around 1000-1500 PSI per inch of material being pressed in the lower temperature range of 190-215 degrees.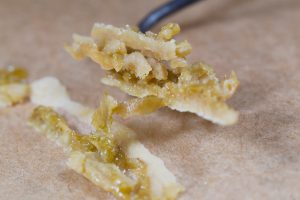 It's important to remember – Even the most experienced extractors are constantly changing and improving their methods.
There is no need to be nervous about failing the first couple times – Overtime you will be able to find what works best for you.
Congratulations!
You've made it this far, and I'm excited to say – the hardest parts over.
All you have to do now is collect those delicious rosin dabs with a dab tool and you're set.
We really hope this article was valuable to anyone looking for information on rosin or getting started pressing.
For any tools or products you may need – Head over to our NugSmasher Store to grab whatever it is!